I don't want my skin or body to age.
Whilst getting older doesn't bother me as such, I do want to look and feel as good as I can.  What to do?
Of course I have to get older, and it is inevitable that my body, skin and mind will change.  However I am on a mission to do what I can to 'age well'.
Am I winning yet?  It's too early to tell, ask me again in 10 years time!
In the meantime it's all about prevention and damage limitation.
Collagen
I first started to take a collagen supplement about 10 years ago.  At the time it was hard to find collagen on the high street – but not so today ?
We all have collagen, which is what we need for soft supply lovely dewy skin.  Plus it is also great for joints and digestion.  BUT… it reduces with age, and from a young age – your 20's!

Also, your diet can damage your existing stock.  Sugar is a bit of an enemy to collagen – the process is called Glycation – you might like to read more HERE.  It has made me rethink my diet.
Bioglan Beauty Collagen
I have recently been trying some collagen products by Bioglan.  These are easy to buy online and I know they are stocked in my local Holland & Barrett.
Bioglan have a range of Beauty Collagen products:
Collagen Tablets (90 tablets)  rrp £22.99
Effervescent Collagen Tablets (20) rrp £8.99
Collagen Gummies (60) rrp £18.99
Collagen Powder rrp £29.99
Effervescent Collagen Tablets & Gummies
These are the two products I have been trying.
They both contain collagen (!) but also Biotin,  Selenium and Vitamin C.  If you are taking any collagen product look out for Vitamin C as it actually helps with the production of collagen in your body.
It is down to choice if and when you take any supplement.  Either way if you do start you can't expect overnight results, you need to be consistent
Biotin, I know is good for your hair and nails.  Selenium? I hadn't heard of this one before, Bioglan state it "contributes to the maintenance of normal nails"  – that's fine with me.
The collagen in both products is marine (fish).  Other sources of collagen can be called Bovine (cow) or Porcine (pig).  If you are Vegetarian and want collagen I will drop a link at the bottom of this post that might help.
Both the tablets and the gummies I am trying  contain the same amount of collagen but they differ in the amount of the other ingredients.
Bioglan Collagen Gummies
These are very pleasant tasting gummies (I would call them chews).  Recommend dose is 2 a day – instructions… chew!
They are not too sweet and taste of yummy strawberry.  They contain non vegetarian gelatine.
A bottle contains 60 – so two months supply.  No mixing with water or pills to swallow, these are a very easy and tasty way to take collagen.
Effervescent Collagen Tablets
Of the two products I have been trying these are my favourite.  They contain the same amount of collagen as the gummies, but less of the Vitamin C, Biotin and Selenium.
They don't contain any gelatine and whilst there is some sucralose in there it is lower down the ingredients list.
These need to be dissolved in water (2 tablets) and make for a lovely strawberry/raspberry flavoured drink.
 I really try and drink water through the day but I can struggle.  This is a great way of getting a glass of H2O into me.  I look forward to drinking this.
Collagen the future and you
Both of the products I have tried from Bioglan are flavoured – and I have found both to be really easy to take.
I would always recommend taking any sort of supplement with a meal – either of these two make for a sweet beauty treat so I tend to have them as a dessert.
It is down to choice if and when you take any supplement.  Either way if you do start you can't expect overnight results, you need to be consistent and to continue to take it (unless it makes you feel worse of course)
For me, I really enjoy adding collagen to my beauty routine, and if I can do it in a tasty way, even better.
I do feel it is doing me good.  Since routinely taking it I feel there has been an improvement in not only my skin, but also my nails, joints (knees) and even my hair which is woefully over processed
I'm glad I started to take collagen when I did, but really glad it is more palatable and easier to get nowadays thanks to brands like Bioglan.  ?
Below is the link re Vegetarian Collagen
A Vegetarian's Guide to Collagen and Healthy Bones
Do you take any supplements as part of your beauty/skincare routine?  I would love to know… Why not drop me a comment?
*I was gifted the Bioglan products pictured in this post.  I am not affliated to Bioglan or AlgaeCal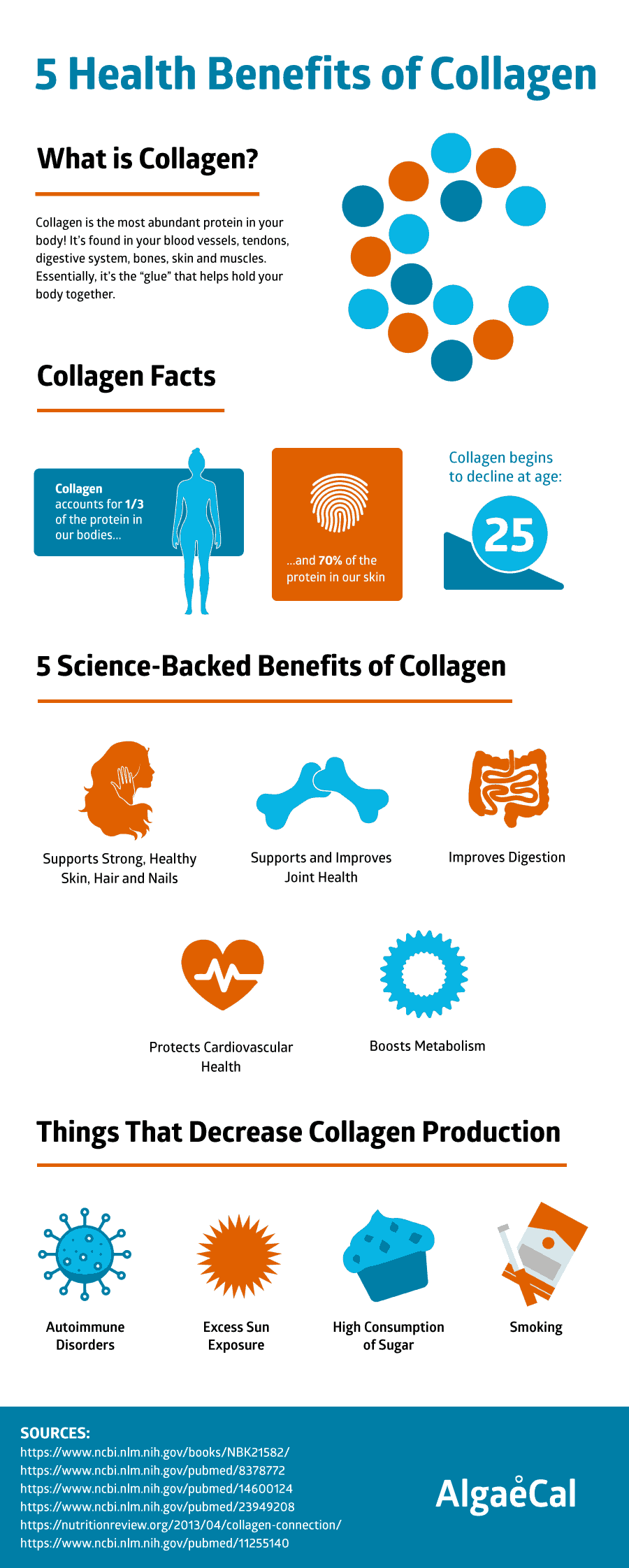 5 Health Benefits of Collagen – An Infographic by the team at AlgaeCal